Dynamics 365 – ErP
See what a modern ERP software solution can do
Why finding the right ERP solution is important for your business
Effective ERP brings all your business processes together to improve collaboration, help your company make data-driven decisions, and advance business productivity. Look for solution software tools that assist with:
Financial Management
Improve your control over company assets, cash flow, and accounting.
Supply Chain and Operations Management
Streamline purchasing, manufacturing, inventory, and sales-order processing.
Customer Relationship Management
Deliver better customer service, while increasing cross-sell and upsell opportunities.
Project Management
Manage billing and project monitoring to deliver work on time and within your budget.
Human Resources Management
Attract, hire, manage, and pay employees that can help your business thrive.
Business Intelligence
Offer easy-to-use tools that help you with analysis, reporting, and business intelligence.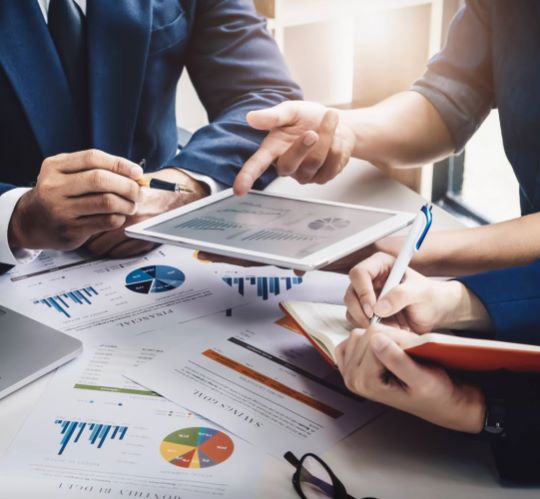 As you grow and expand on a global scale, ERP allows you and your company to maintain visibility and standardize business procedures, so you can work around the world and move into new markets. Some of the benefits of ERP global software allow you to:
Collaborate across your virtual organization
Easily work in partnership with other operations, partners, and suppliers on your value chain.
Expand into new markets easily
Support new locations, geographies, and industries with minimal IT effort.
Simplify your IT environment
Standardize a single ERP solution and easily innovate by capitalizing on existing IT investments. 
Enterprise Resource Planning
Dynamics 365 for
Business Central
Manage your entire company from one application. Connect data from all departments, such as Finance, Supply Chain Management, Sales and Field Service and store it in a single database. Your staff will be more productive and you'll have a better view of your operations.
Dynamics 365 for
Human Resources
Optimize your HR programs. Find and hire the right candidates by adding LinkedIn Talent Solutions to your recruiting process. Provide your managers with data on their team's performance so they can address concerns before they become problems. Let your employees be more independent by letting them manage their own training, performance tracking and time-off requests.
Dynamics 365 for
Project Operations
Build plans with templates that can be used again and adjusted for each project. Get a clear view of which stage you're at and who is working on what. Determine at a glance if the project is profitable and will meet the customer's expectations.