Industry Solutions – Government
Manage citizen relationships and government-delivered public services more efficiently
Even as government operating budgets shrink, citizen expectations for responsive service from government continue to grow, increasing pressure on agencies to be more accessible and user-friendly. But without a common framework for collecting and sharing data, coordination, and operational insight, it can be difficult for agencies to fulfill their diverse constituent responsibilities effectively.
Microsoft Dynamics CRM solutions for Government can help agencies deliver citizen-centric services better, faster, and at lower cost. Integrated with your productivity, collaboration, database, and communications tools, Microsoft Dynamics CRM—available for on-premises use or as a cloud-hosted service—provides a powerful foundation for making citizen interactions more convenient and for boosting constituent satisfaction.
Enjoy familiar, easy-to-use tools and functionality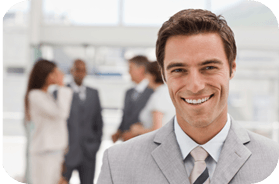 Microsoft Dynamics CRM can easily integrate into your agency's current infrastructure, so users get quick access to the information they need. And, because Microsoft Dynamics CRM 2011 uses the familiar Microsoft Outlook interface, your agency can rapidly adopt the tools and help increase potential ROI.
Make your organization more connected and agile
Consolidate data and deliver applications across your organization, or across multiple organizations, with multi-tenancy employing a common architecture and data mode. Switch between in-house and cloud deployment models as your needs change, taking advantage of flexible cloud development, Windows Azure interoperability, contextual Microsoft SharePoint capabilities, and the new Microsoft Dynamics Marketplace to configure and customize Microsoft Dynamics CRM 2011 to meet your agency's specific requirements.
Help increase citizen satisfaction and reduce service costs
Minimize redundant efforts by capturing knowledge and storing it in a way that expedites rapid retrieval and predictable follow-through. Automate workflows and organize case notes, contact history, resolutions, and other pertinent information, so agency staff can instantly access role-appropriate data to help ensure accuracy. Integrate your call center with self-service online portals built on scalable Windows Azure cloud technology, where citizens can find information about services and events; apply for permits, jobs, and licenses; pay bills and fines; comment on community concerns; and monitor the progress of their own cases and requests.
Support continuity of operations and compliance
Further protect your agency data and achieve higher levels of business continuity with enterprise cloud features that offer improved disaster-recovery capabilities. Enhanced identity federation and compliance certifications can help you meet security, privacy, and other regulatory requirements.
Click here for more information on Microsoft Dynamics CRM solutions in Government.